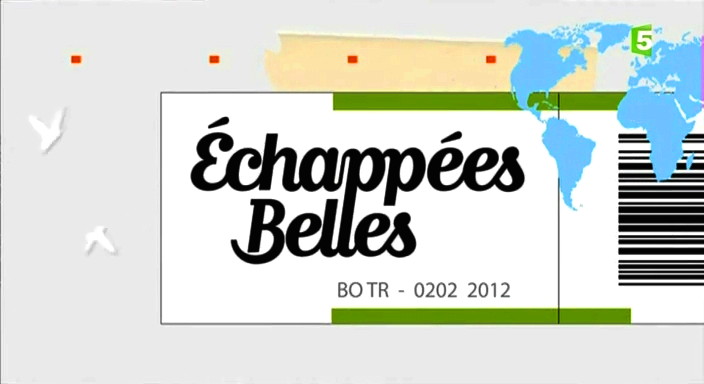 Échappées Belles - Jérôme Pitorin - Une journée à Tokyo
Year of production : 2012
Producer / Presenter : Jérôme Pitorin
Duration : 90 min.
TV Channel : France 5
Language : FR

Description
In these new Échappées Belles, Jerome visit the capital of Japan, Tokyo. He begins by spending the night in a capsule hotel. Then he did a little tour of Asakusa area into "pousse-pousse", a non-motorized traditionnal Japanese car. First we have a glimpse of Tokyo's oldest temple which has nearly 1,400 years, the Senso-ji temple and its surroundings. Visit of a whole neighborhood full of history with a special guide, Sojiro Okazakiya (conductor of "pousse-pousse") who knows the area inside out. Then Jerome crosses the Sumida River to board the famous tower Tokyo Skytree, 643 m.
Tokyo is a huge metropolis with lots of big buildings and to see some greenery, so you have to get higher. This is how we made the visit of a hive on the roofs of the Ginza district created by an environmental association. But that's not all! Associations incentive to grow on rooftops vegetable gardens or green spaces by companies and individuals. Sojiro will then invite Jerome in traditional Japanese Shinto wedding ceremony where the bride and groom parade through the streets "pousse-pousse" before the ceremony. Jerome share lunch with Sojiro in a small popular neighborhood restaurant but to get there, the roles are reversed, Jérôme is pulling the "pousse-pousse" and Sojiro the customer.
We leave later in the direction of Ginza in a traditional sushi restaurant where master Mamoru Sugiyama monitors a sharp eye his apprentices. Cutting fish and seafood requiring ball control, it takes at least 10 years to become a master. The teacher explains how the simple recipe sushi is enhanced by the art of sushi master. Jerome will then go through the famous Shibuya crossing and meet Hachiko, the statue of the most famous dog in Japan. It is in this area that Loic Bizel photographies new Japanese and international trends. Loïc takes Jerome in the Daikanyama neighborhood with its small shops of young Japanese designers.
We then discover a social problem that the city of Tokyo is facing : men and women do no longer meet each other. Tokyo Women are becoming more independent, think more about their career, which also increases their demanding in terms of men. To increase the number of couples and weddings in Tokyo, many people are looking for solutions. Jerome continues its adventure in Sanrio Puroland with Meg, popular singer of the Japanese public. He will be introduced to the world of "Kawai" in this theme park dedicated to the famous cat Hello Kitty! Then they will go to a cat cafe to relax.
In Tokyo, there are also more and more dog owners. They see them as their children, so businesses that revolves around services for dogs such as clothing, spa, hair salon ... are developing at increasing speed. Meanwhile, Jerome learns more about Meg who is a singer, model and fashion designer really appreciated in Tokyo. Then he will take a tour to see professor Yoshiyuki Sankai at Cyberdyne. Here he will see the progress of robotics and models of robots for medical assistance. In Akihabara, robotics and high technology is highly developed, but there are also some very special places like Maid café, bars where the waitresses are dressed in maid. We can also see fan of cosplay, Japanese young people who dress up as their favorite manga or anime character.
Quite another world, Jerome will visit the garden-museum of bonsai by Master Kumio Kobayashi. Some of his bonsai has nearly 700 years and are worth nearly 300,000 euros. Jerome ends its journey by attending a sumo training and observe their way of life, their history and their custom with Doreen Simmons sumo commentator for the TV station NHK for 20 years. Finally, discovering of the Tokyo night with tourist route taxi with light and music. We also have a different view of Tokyo at night with Ken Ohyama photographer, who likes to take the highway interchanges at night to make people discover another side of Tokyo. There are also the hidden side of Tokyo nights, the one where the Japanese have no longer taboo, the Tokyo Underground. Jerome is finally going to Shimokitazawa to discover the night of Japanese young people in a game center and especially in a karaoke, a staple of the party at the Tokyo with a view of the Tokyo Tower.
Gallery of pictures